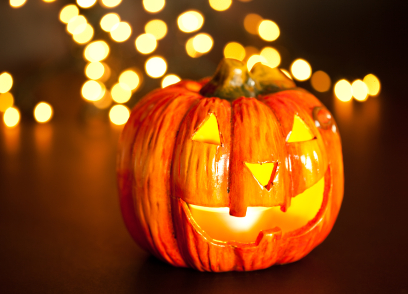 Halloween is a magical time for many of us. Children get to experience a night of full imagination with costumes, music, scares, and of course candy. Adults also get the chance to let loose, wear crazy costumes and go out on a night of debauchery and fun. But these two things can be dangerous if paths are ever to cross. Something that all adults have to keep in mind when letting loose on Halloween is that there will be children trick or treating, walking from house to house, walking in the streets, walking all over the place; so it's important to keep safe driving in mind.
"Tricks" to keeping everyone safe on Halloween
Don't drink and drive! Or any other influences that could impair your driving.
Don't text and drive!
Don't use a cell phone while driving through neighborhoods. Any distraction could end up very badly.
When driving through neighborhoods stay well below the posted speed limit.
Pay attention to what's happening on sidewalks and roadways. Watch for children darting across streets, especially between parked cars.
Be extra alert when pulling in and out of driveways as children could be around.
Do not assume children can see you or are paying attention, as the adult you need to take that responsibility and keep your eye on the children.
Drivers should also check that all lights on their car work so the car is more visible to pedestrians.
Be careful when passing cars on the road as they may be stopped to drop children off for trick or treating.
If you're driving a group of children, but staying in the running vehicle at the curb, be sure to put on your hazard lights to alert other motorists.
Parents can help motorists, too:
Make your children visible to drivers. Give them flashlights and glow sticks or dress them in bright, reflective costumes.
Use makeup, rather than masks, so children have a clear view of their surroundings and can clearly see cars coming.
Be sure children know how to cross a street safely – tell them to look left, right and left again before crossing.
Instruct children to stay on sidewalks and to cross only at corners or crosswalks.
Accompany your children as they trick or treat.
Tips for the trick-or-treaters:
Watch the length of your costumes; this will help avoid tripping or any other hazard that could end badly.
Ensure any props are flexible and blunt-tipped to avoid injury from tripping or horseplay.
Carry a flashlight and place it face down in the treat bucket to free up one hand. Never shine it into the eyes of oncoming drivers.
Stay on sidewalks and avoid walking in streets if possible.
If there are no sidewalks, walk on the left side of the road, facing traffic.
Look both ways and listen for traffic before crossing the street.
Trick-or-treat in a group if an adult cannot go with you.
Tell your parents what neighborhoods you plan on going to and keep your parents updated at all times.