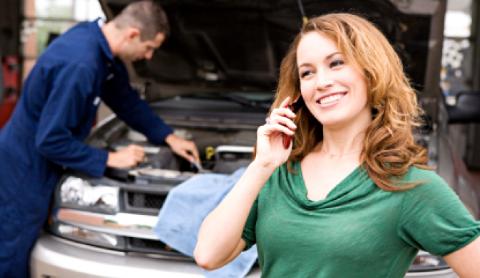 With much of the United States gripped by the intense cold of snow and ice this winter, it's with great celebration that the early signs of spring are popping up.  With the forthcoming transition of weather, your car may be in desperate need of seasonal maintenance.
Here are a few tips to help keep you safe on the road, and your vehicle running in tip-top shape as the warmer temperatures approach.
Check the Fluid
Transmission, power steering, coolant, and brake fluid should be checked for leaks, and it may also be time for an oil change.
Battery
If you haven't been on the road much this winter, it may be a good time to recharge or replace your battery.
Inspect Hoses & Belts
Has your car been making chirping noises?  It may be time to replace the belt.  Hoses should also be checked visually for cracks and damage.
Check the Tires
It's always important to check your tire pressure; as temperatures rise, very often the tire pressure changes.  Under-inflated tires can lead to issues with safety, and could eventually blow.  While over-inflated tires can cause hydroplaning in wet weather.
Brake Check
Have you noticed your brakes making an intense scraping or grinding noise when slowing down or coming to a stop?  Don't put you or your family at risk; it may be time to replace pads or rotors in order to ensure your safety.
Windshield Wipers
After a tough winter, the rubber in your existing wipers may have cracked or torn due to extreme cold.  Check for streaks on your windshield in light rain, if it takes more than one pass to wipe the rain away, it may be time to replace them.
Air Conditioning
As the weather transitions you may find yourself switching the knob from heat to air conditioning and with that simple movement could potentially find that there's a leak, or your car isn't cooling properly.  It's important to note that newer cars should be checked by a professional if faulty.
Change the Air Filter
A filter change might be necessary if your air filter has become clogged with debris and particles.  Remove the air filter and give it a quick inspection, if it's visually dirty it needs to be changed.